Learn AWS Training in Dubai from the certified trainers. We offer the most practical-oriented Courses for AWS training courses with certification assistance, advanced lab facilities in Dubai and UAE. Join our AWS Course at Sanisoft to become an engineer for networking in Top MNC. Sanisoft offers AWS Training in Dubai at Abu Dhabi, Sharjah, Ajman, Umm Al Quwain, Ras Al Khaimah, Fujairah, and UAE regions with unique Course Content and Backup Courses. Take a month with us, and you will become proficient in AWS concepts.
Have Doubts? Ask Our Experts
Best AWS Training in Dubai
AWS Certification Training allows us to recognize cloud technology's security and conformity benefits. The Certified AWS Professional will learn about Data Security and Data Encryption in an all-inclusive manner. AWS Certification Course is open to both professionals and students who don't know AWS.
The industry's most qualified and experienced experts can provide technical guidance on various AWS services and domains. In cycle trains AWS professionals to work together in a structured way, much like the industry. AWS makes it easier for them to learn the practical aspects of AWS.
AWS Certified professionals will have many opportunities to land a high-paying jobs. This certification helps you gain the credibility necessary to work in the IT Industry.
Want to Become an AWS Professional
Why Sanisoft Is the Training Institute In For AWS in Dubai?
What is AWS and Used for?

Amazon Web Services (AWS) is an Amazon cloud computing platform that offers a variety of services, including infrastructure as a Service (IaaS), platform and software as a Service (PaaS), and packaged software as service (SaaS). AWS services offer organizations tools like compute power, storage, and content delivery.
AWS was launched from Amazon.com's internal infrastructure to support its online retail operations in 2006. AWS was the first company to offer a pay-as-you-go cloud computing model. AWS allows users to access compute, storage, and throughput at scale.
AWS provides many tools and solutions available to software developers and enterprises. These can be used in data centers in as many as 190 countries. AWS services are available to government agencies, educational institutions, nonprofits, and private organizations.
Answer 3 Simple quiz
Get 10% Discount on All Courses. Limited Offer Only. T&C Apply
Syllabus of AWS Course in Dubai
INTRODUCTION TO CLOUD COMPUTING
Introduction to Cloud Computing
Benefits of Cloud Computing
CLOUD DELIVERY/SERVICE MODELS
 Software as a Service (SaaS)
 Platform as a Service(PaaS)
Infrastructure as a Service (IaaS)
 Subscription to AWS
 Introduction to the AWS Management Console
 Building an EC2 Windows instance & Linux Instance
 Bootstrapping with user-data
 Setting up security
 Security with Key Pairs
Working with the Security Group
 Different IPs assigned to an EC2 instance
Assigning Elastic IPs
 Login/Access to the instance
 Creating your own custom AMI, Registering & Granting access to the AMI
 Placement groups
 EC2 instance protection
 Instance Roles
Importing and Exporting Instances
Elastic Network Interfaces(ENIs)
Resources and Tags
ELASTIC COMPUTE CLOUD (EC2) ESSENTIALS
Regions and Availability Zones – Choose the right Region
 Amazon Machine Images (AMI)
 Working with AMIs
 Choosing the right AMI
 Deciding what goes into an AMI
 Finding the right AMI
 Pricing model in EC2 instances
 On-demand, Reserved, Scheduled, Spot instances, Dedicated Hosts
 EC2 Reserved Instance Marketplace
 Importing and Exporting Instances
SIMPLE STORAGE SERVICE (S3)
 Creating and deleting buckets
 Adding objects to buckets
 Getting objects
 Deleting objects
 Notifications
 Uses of S3 storage
 Working with Permissions of S3, Access Control, Bucket policy
 S3 Data encryption types
 Enable Versioning, Logging for S3 objects
 Accessing S3 storage with Tools
 Hosting a Static Website
IDENTITY AND ACCESS MANAGEMENT (IAM)
Creation of user accounts
 Setting up multi factor Authentication (MFA)
 Roles in IAM
 Groups in IAM
 Delegation of permissions for users
 Creation of custom policies for delegation
 Using Identity Providers
 Cross-Account Access
 Account settings
 Credential Report
 Configuring Amazon Route 53 as Your DNS Service
 Migrating DNS Service for an Existing Domain to Amazon Route 53
 Working with Public Hosted Zones
 Working with Private Hosted Zones
 Working with Resource Record Sets
 Health Checks and DNS Failover
 Creating, Updating, and Deleting Health Checks
 Transferring a Domain from a Different AWS Account or Registrar
 Using IAM to Control Access to Amazon Route 53 Resources
SIMPLE NOTIFICATION SERVICES (SNS)
 Creation of a topic
 Subscribing to topic via Email
 Setting notification for EC2 instance changes
SIMPLE EMAIL SERVICES (SES)
 Setting up email domain
Limits of SES
 Test Email setup
RELATIONAL DATABASE SERVICE (RDS)
 DB Instances
 Selecting the DB-Engine
 Configuring the Database Server
 Creating your Database
 Setting up automatic backups, snapshots & restores
 Authorizing access to the DB with RDS Security Groups
 Managing MySql Database server
CLOUD COMPUTING DEPLOYMENT MODELS
 Private Cloud
 Public Cloud
 Hybrid Cloud
 Linux basic Commands
Linux basic Administration
ELASTIC LOAD BALANCER (ELB)
 What Is Elastic Load Balancing
 How Elastic Load Balancing Works
 Creating load balancer
 Security groups for the load balancer
 Cross-Zone Load Balancing
ELASTIC BLOCK STORE (EBS)
 EBS Volume Types
 EBS Performance
 Instance Store volumes
 Instance Stores Available on Instance Types
 Instance Store Usage Scenarios
 Adding Instance Store Volumes to an AMI
 Optimizing Disk Performance
 Creating and deleting volumes
 Attaching and detaching volumes
Mounting and Unmounting the attached volume
 Creating snapshots
 Cross-Region snapshot copy & use cases.
 What is auto scaling
 Auto scaling components
 Benefits of auto scaling
 Creating launch configuration, and its prerequisites.
 Creating Auto Scaling Groups (ASG)
 Attach & Detach EC2 Instances in ASG
 Configuration of auto scaling policies based on the Load on EC2 instances.
 Using Auto scaling with Elastic Load balancer (ELB).
 Suspend and Resume Process
 Shut Down Your Auto Scaling Process
 Monitoring Your Auto Scaling Instances
 Health Checks
 Getting Notifications When Your Auto Scaling Group Changes
 Creating Vaults
 Working with Archives
 Accessing the Glacier vault using tools
 Using Glacier for backups
Data Retrieval Policy Operations
VIRTUAL PRIVATE CLOUD (VPC)
 Different types of networks that can be setup in AWS
 Creating a custom VPC
 NACLs & Security Groups
 Creation of Internet Gateway(IGW)
 Connecting to instances in the gateway
 Subnets, Route Tables & Association
 NAT Instances & NAT-Gateways
 VPC Peering
 Debugging cloud related issues
 Monitoring the AWS Service Health Dashboard
 Monitoring with Cloud watch
 Getting statistics for a specific EC2 instance
 Getting aggregated statistics
 Metrics for other AWS Services and related namespaces
 Setting up notifications
SIMPLE QUEUE SERVICE (SQS)
Creation of a queue
Sending messages to the queue
 Retrieving messages from SQS
Creation of Web-App using Elastic Beanstalk
 Building a sample application using Beanstalk
 Modifying the properties of the deployment.
 How CloudFront Delivers Content
 Working with Distributions
 Working with Web Distributions
 Working with Objects
 Request and Response Behaviour
 Serving Private Content through CloudFront
 Using an HTTPS Connection to Access Your Objects
 Using IAM to Control Access to CloudFront Resources
 Monitoring CloudFront Activity Using CloudWatch
Available Batch Schedule for AWS Training in Dubai
Sanisoft Information Technologies offers flexible timings for all our students. Here are the AWS classes in Dubai, The schedule for our branches. If the schedule does not match you, please let us know. We'll try to find suitable times with your flexibility.
🗓️ Can't Find Perfect Batch For You?
If you want to provide the most modern technology to your highly valued employees, we're here to assist you.
Trainer Profile of AWS Training in Dubai
Our trainers offer complete freedom to students to study the subject matter and learn from actual examples. In addition, our trainers assist candidates with their projects and prepare them for interviews and responses. Candidates are welcome to have any questions anytime.
AWS Course Certifications
Significant Global Companies around the world endorse Sanisoft Information Technologies Certification. After completion, we offer practical and theoretical sessions to new graduates and corporate trainees.
Our certification with Sanisoft Technologies is accredited worldwide. It enhances the worth of your resume. You can get top job opportunities by obtaining this certification from the most reputable MNCs across the globe. The certificate is issued only upon completing our courses and practical projects.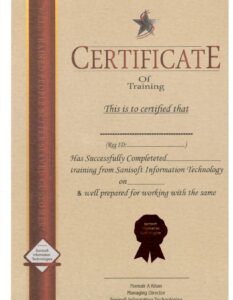 | Certifications | Cloud practioner | Solutions Architect | Developer | Sysops Adminstrator | Solutions Architect | DevOps Engineer |
| --- | --- | --- | --- | --- | --- | --- |
| | | | | | | |
| Exam Code & Certification | | | | | | |
| Certifications | Advanced Networking | Security | Machine Learning | Data analytics | Data base |
| --- | --- | --- | --- | --- | --- |
| | | | | | |
| Exam Code & Certification | | | | | |
AWS Certification Road Map
Key Features of AWS Course in Dubai
If you join with more than three people in your training, we will give special discount.
AWS Institute Infrastructure and Lab Setup in Dubai
Industry Level Lab (Servers, Routers, etc.)
Facility with Computers Each Students
Clean Training Rooms with Writing Pad & Chairs
Free Wifi
Free Notebook & Pens,
LED TV & Projectors
Drinking Water & Relax Room Jazmine D'souza
I had a really great experience preparing for the certifications I was pursuing. The environment is very supportive and welcoming. The training had me working on devices, implementing solutions to accomplish the required objectives. The relevant theory was thoroughly explained. The preparation provided for the exam was more than sufficient as well. Got helpful advice for the road ahead here as well. Ashfaq Motiwala
I Enrolled for CCNA 200-301 and Azure Solutions Architect Course and the trainer help me clear my concept. I happen to do all labs on Real Cisco Equipment, I did not need to spend any money on Azure Subscription. Sanisoft has Certified and professional trainers that can help you achieve your exams with flying colors . Highly recommended for those who would like to start there Career in IT. Karim Abbas
"I've never completed a course like this before and I cannot express how great it was and the overall content of the material. I would definitely recommend this to my friends. I will be looking into taking more of these classes through in the near future. Thank you so much!
[trustindex no-registration=google]
Looking for Enhance your Skill? Enroll Now for Triple Course Offer! 
Frequently Asking Questions
AWS Course Details Overview in Dubai
| Course | AWS |
| --- | --- |
| | |
| | |
| | |
| | |
| | AWS foundational, AWS professional, AWS associate, AWS Specilaty |
| | AWS EXAM CLF-CO1, AWS EXAM SAA-CO2, AWS EXAM DVA-CO1, AWS EXAM SOA-CO2, AWS EXAM SAP-CO1, AWS EXAM DOP-CO1, AWS EXAM ANS-COO, AWS EXAM SCS-CO1, AWS EXAM MLS-CO1, AWS EXAM DAS-CO1, AWS EXAM DBS-CO1, |
| | 3000 AED to 4500 AED Per Month |
| | Cloud Architect, Cloud Developer, Cloud Systems Administrator, Cloud DevOps Engineer, Cloud Security Engineer, Cloud Network Specialist, Cloud Data Architect, Cloud Consultant |