Cyber Security Course in Dubai
Learn Cyber Security Training in Dubai from the industrial experienced trainers. We offer the most practical-oriented Courses for Cyber Security training courses with certification assistance, and advanced lab facilities in Dubai and UAE. Join our Cyber Security Course at Sanisoft to become an cyber security professional in Top MNC. Sanisoft offers Cyber Security Training in Dubai at Abu Dhabi, Sharjah, Ajman, Umm Al Quwain, Ras Al Khaimah, Fujairah, and UAE regions with unique Course Content and Backup Courses. Take a month with us, and you will become proficient in the Cyber security concepts.
Have Doubts? Ask Our Experts
Best Cyber Security Training in Dubai
Cybercrime has been on the rise due to rapid technological advancements. Hackers have now had the opportunity to use ransomware as a reward for their cybercrimes. Given the increasing demand for cyber security professionals in many industries, the course will provide a foundational platform for those interested in cyber security. It will increase the chances of locating and identifying scams before they are fully implemented. This course will teach students how to reduce or eliminate the destruction of resources and ultimately ensure the security of information technology assets.
Cisco Systems, a tech conglomerate that specializes in security and networking, defines cyber security as the practice of protecting networks, programs, and systems from digital attacks. These cyberattacks can access, change, or destroy sensitive information, extort money from users, or disrupt normal business processes.
Want to Become a Cyber Security Professional
Why Sanisoft Is the Training Institute In For Cyber Security Course in Dubai?
What is Cyber Security and Used for?
What is Cyber Security?
Cybersecurity is a discipline that focuses on how to protect devices and services against electronic attacks from nefarious actors like hackers, spammers, and cybercriminals. Although some elements of cyber security can strike first, the majority of professionals today focus on how to protect all assets from hackers, spammers, and other criminals.
Cybersecurity has been used in media as a generic term to describe protection against all forms of cybercrime. Cyber security course includes identity theft and international digital weapons. These labels are valid but do not capture the true nature of cyber security for those who have no computer science degrees or experience in the digital sector.
Answer 3 Simple quiz
Get 10% Discount on All Courses. Limited Offer Only. T&C Apply
Syllabus of Cyber Security Course in Dubai
INTRODUCTION TO ETHICAL HACKING
Information Security Overview
Information Security Threats and Attacks Vectors
Hacking Concepts, Types and Phases
Ethical Hacking Concepts and Scope
Information Security Controls
Information Security Laws and Standards
Overview of Network Scanning
CEH Scanning Methodology
Check for Open Port
Scanning Techniques
Scanning Beyond IDS
Banner Grabbing
Scan for Vulnerability
Prepare Proxiesn
Spoofing IP Address
Trojan Concepts
Types of Trojans
Virus and Worms Concepts
Creating Virus / Worms /Trojans
Malware Reverse Engineering
Malware Detection
Types of SQL Injection
SQL Injection Methodology
Blind SQL Injection
Error based SQL injection
SQL Injection Tools
Evasion Techniques
Social Engineering Techniques
Hacking facebook /gmail/ linkedin etc.,
Impersonation on Social Networking Sites
Identity Theft
Social Engineering Countermeasures
Application Level Session Hijacking
Networking- level Session Hijacking
Session hijacking in facebook / google / etc.,
CSRF (Cross Site Request Forgery)
Session Hijacking Tools
Counter – measures
EVADING IDS, FIREWALLS AND HONEYPOTS
IDS , Firewall and Honeypot System
Evading IDS
Evading Firewalls
Detecting Honeypots
IDS / Firewall Evading Tools
Wireless Encryption
Wireless Threats
Wireless Hacking Methodology
Hacking WAP / WEP /WEP2 wifi's
Wireless Hacking Tools
Bluetooth Hacking
Case Study : Heartbleed
Case Study : Poodlebleed
Encryption algorithms
Cryptography tools
Public Key Infrastructure (PKI)
Email Encryption
Disk Encryption
Cryptography Attacks
FOOTPRINTING AND RECONNAISSANCE
Footprinting Concepts
Footprinting Methodology
Footprinting Tools
Footprinting Countermeasure
Footprinting Penetration Testing
Cracking Passwords
Escalating Privileges
Executing Applications
Hacking windows xp / 7 / 8 / 10 / Server and Linux
Spyware
Hiding Files
Covering Tracks
Web App Threats
Web App Hacking Methodology
XSS (Cross Side Scripting)
CSRF
OWASP Top 10 Vulnerability
Web Application Hacking Tools
MAC Attacks
DHCP Attacks
ARP Poisoning
Spoofing Attack
DNS Poisoning
Sniffing Tool : Wireshark
Sniffing Detection Techniques
DoS / DDoS Attack Techniques
Botnets
DoS / DDoS Attack Tools
DoS / DDoS Protection Tools
Defacing any websites / networks
Webserver Attacks
Attack Methodology
Webserver Attack Tools
Hacking windows / linux webserver
Defacing webservers
Patch Management
Webserver Security Tools
Cloud computing threats
Cloud computing attacks
Cloud Security
Cloud Security tools
.
Mobile Platform Attack Vectors
Hacking Android OS
Hacking IOS
Hacking Windows Phone OS
Hacking BlackBerry
Mobile Device Management (MDM)
Available Batch Schedule for Cyber Security Training in Dubai
Sanisoft Information Technologies offers flexible timings for all our students. Here are the Cyber Security classes in Dubai, The schedule for our branches. If the schedule does not match you, please let us know. We'll try to find suitable times with your flexibility.
🗓️ Can't Find Perfect Batch For You?
If you want to provide the most modern technology to your highly valued employees, we're here to assist you.
Trainer Profile of Cyber Security Training in Dubai
Our trainers offer complete freedom to students to study the subject matter and learn from actual examples. In addition, our trainers assist candidates with their projects and prepare them for interviews and responses. Candidates are welcome to have any questions anytime.
Cyber Security Certifications
Significant Global Companies around the world endorse Sanisoft Information Technologies Certification. After completion, we offer practical and theoretical sessions to new graduates and corporate trainees.
Our certification with Sanisoft Technologies is accredited worldwide. It enhances the worth of your resume. You can get top job opportunities by obtaining this certification from the most reputable MNCs across the globe. The certificate is issued only upon completing our courses and practical projects.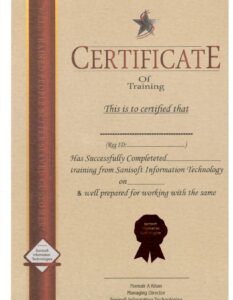 Key Features of Cyber Security Course in Dubai
If you join with more than three people in your training, we will give special discount.
Cyber Security Institute Infrastructure and Lab Setup in Dubai
Industry Level Lab (Servers, Routers, etc.)
Facility with Computers Each Students
Clean Training Rooms with Writing Pad & Chairs
Free Wifi
Free Notebook & Pens,
LED TV & Projectors
Drinking Water & Relax Room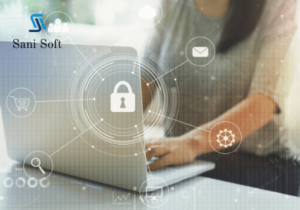 Cyber Security Training Reviews Jazmine D'souza
I had a really great experience preparing for the certifications I was pursuing. The environment is very supportive and welcoming. The training had me working on devices, implementing solutions to accomplish the required objectives. The relevant theory was thoroughly explained. The preparation provided for the exam was more than sufficient as well. Got helpful advice for the road ahead here as well. Ashfaq Motiwala
I Enrolled for CCNA 200-301 and Azure Solutions Architect Course and the trainer help me clear my concept. I happen to do all labs on Real Cisco Equipment, I did not need to spend any money on Azure Subscription. Sanisoft has Certified and professional trainers that can help you achieve your exams with flying colors . Highly recommended for those who would like to start there Career in IT. Karim Abbas
"I've never completed a course like this before and I cannot express how great it was and the overall content of the material. I would definitely recommend this to my friends. I will be looking into taking more of these classes through in the near future. Thank you so much!
[trustindex no-registration=google]
Looking for Enhance your Skill? Enroll Now for Triple Course Offer! 
Frequently Asking Questions
Cyber Security Course Details Overview in Dubai
Course

Cyber Security

Cyber security Certifications

CERTIFICATION, COMPTIA ADVANCED SECURITY PRACTITIONER, COMPTIA CYBERSECURITY CAREER PATHWAY, COMPTIA CYSA+, COMPTIA PENTEST+, COMPTIA SECURITY+, CYBERSECURITY, IT CAREER CENTER, IT SKILLS

Cyber security Job Salary

5000 AED to 8000 AED Per Month

Cyber security Job Opportunities

Network Security Engineer, Cyber Security Analyst, Security Architect, Cyber Security Manager, Chief Information Security Officer (CISO), Information Security Manager , Cybersecurity Engineer, Application Security Engineer, Ethical Hackers , Incident Manager , Cybersecurity Consultant , Cloud Security Engineer