Hardware Networking Course in Dubai
Learn Hardware Networking Training in Dubai from the Industrial Experienced trainers. We offer the most practical-oriented Courses for Hardware Networking training courses with certification assistance and advanced lab facilities in Dubai and UAE. Join our Hardware Networking Course at Sanisoft to become an Hardware engineer  in Top MNC. Sanisoft offers Hardware Networking Training in Dubai at Abu Dhabi, Sharjah, Ajman, Umm Al Quwain, Ras Al Khaimah, Fujairah, and UAE regions with unique Course Content and Backup Courses. Take a month with us, and you will become proficient in the Hardware Networking concepts.
Have Doubts? Ask Our Experts
Best Hardware Networking Training in Dubai
Hardware networking is all around. Although it may be surprising to some, every piece of software needs to communicate with the network to function. This statement demonstrates the importance of Hardware Networking within this digital world.
Every program that runs uses a network channel to transmit information around the globe. Anyone can learn Hardware Networking from Finance, Education and Transportation. Every sector requires Hardware Networking access. Customers should be able to share their information via mobile apps, bank transfers, messaging with parents, or sharing their children's grades with their parents.
Every service requires its network channels to run. Because Networking is easy to learn, there's a lot of demand for Hardware Networking Engineers or Hardware Networking Administrators that can help with security and administration.
Want to Become a Hardware Network Engineer
Why Sanisoft Is the Training Institute In For Hardware Networking in Dubai?
What is Hardware Networking and Used for?
Computer Hardware and Networking Courses. Businesses worldwide are dependent on their IT infrastructure to run their business. Skilled computer hardware and network management professionals are required to manage IT infrastructure. These professionals can manage IT infrastructure, reduce downtime, and increase or decrease the capacity as required by the business.
To be a professional in the field of Computer Hardware and Networking. As per the student's needs, they can pursue either short-term or long-term courses. Students looking to build a career in their chosen field and get certified can pursue short-term courses that are skill-based.
Answer 3 Simple quiz
Get 10% Discount on All Courses. Limited Offer Only. T&C Apply
Syllabus of Hardware Networking Course in Dubai
Assembling & Service (Desktop & Laptop)
Operating System (OS) installation & Repairing
Multi – OS Installations
Linux Installation ( KALI & RHEL )
Driver and Software Installations
Acronis & VMware Workstation
BIOS and UEFI features
Printer, Modem, Webcam, Scanner
Trouble shooting, Latest tricks and Techniques
Switches, Routers, Cable Preparation and Crimping
Networking with TCP/IP Version 4 & Version 6 Addressing
Sharing, Securing and Accessing Files and Folders
Printer Sharing
Remote Desktop Connections , MSRA Configuration
Managing NTFS Files and Folders
Broadband , Fiber optics & Wireless Configuration
Configuring Bootable Pen Drive (For windows & Linux)
Password Recovery & Data Recovery
Introduction about Ethical Hacking
Available Batch Schedule for Hardware Networking Training in Dubai
Sanisoft Information Technologies offers flexible timings for all our students. Here are the Hardware Networking classes in Dubai, The schedule for our branches. If the schedule does not match you, please let us know. We'll try to find suitable times with your flexibility.
🗓️ Can't Find Perfect Batch For You?
If you want to provide the most modern technology to your highly valued employees, we're here to assist you.
Trainer Profile of Hardware Networking Training in Dubai
Our trainers offer complete freedom to students to study the subject matter and learn from actual examples. In addition, our trainers assist candidates with their projects and prepare them for interviews and responses. Candidates are welcome to have any questions anytime.
Hardware Networking Certifications
Significant Global Companies around the world endorse Sanisoft Information Technologies Certification. After completion, we offer practical and theoretical sessions to new graduates and corporate trainees.
Our certification with Sanisoft Technologies is accredited worldwide. It enhances the worth of your resume. You can get top job opportunities by obtaining this certification from the most reputable MNCs across the globe. The certificate is issued only upon completing our courses and practical projects.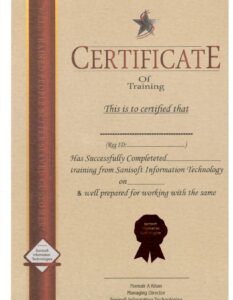 Key Features of Hardware Networking Course in Dubai
If you join with more than three people in your training, we will give special discount.
Hardware Networking Institute Infrastructure and Lab Setup in Dubai
Industry Level Lab (Servers, Routers, etc.)
Facility with Computers Each Students
Clean Training Rooms with Writing Pad & Chairs
Free Wifi
Free Notebook & Pens,
LED TV & Projectors
Drinking Water & Relax Room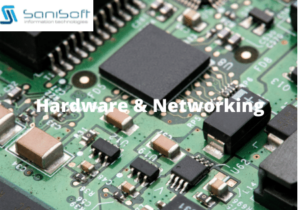 Hardware Networking Training Reviews Jazmine D'souza
I had a really great experience preparing for the certifications I was pursuing. The environment is very supportive and welcoming. The training had me working on devices, implementing solutions to accomplish the required objectives. The relevant theory was thoroughly explained. The preparation provided for the exam was more than sufficient as well. Got helpful advice for the road ahead here as well. Ashfaq Motiwala
I Enrolled for CCNA 200-301 and Azure Solutions Architect Course and the trainer help me clear my concept. I happen to do all labs on Real Cisco Equipment, I did not need to spend any money on Azure Subscription. Sanisoft has Certified and professional trainers that can help you achieve your exams with flying colors . Highly recommended for those who would like to start there Career in IT. Karim Abbas
"I've never completed a course like this before and I cannot express how great it was and the overall content of the material. I would definitely recommend this to my friends. I will be looking into taking more of these classes through in the near future. Thank you so much!
[trustindex no-registration=google]
Looking for Enhance your Skill? Enroll Now for Triple Course Offer! 
Frequently Asking Questions
Hardware Networking Course Details Overview in Dubai
Course

HARDWARE AND NETWORKING

2000 AED to 3000 AED Per Month

Hardware and Networking Job Opportunities

Maintenance of computer networks, hardware, software, and other related systems, performing disaster recovery operations, protecting data, software, and hardware from attacks, and replacing faulty network hardware components when necessary