Learn SEO Training in Dubai at Sanisoft information technologies. We offer the most practical-oriented Course for SEO training course with certification assistance, and advanced lab facilities in Dubai and UAE. Join our SEO course at Sanisoft to become a successful SEO in Top MNC. Sanisoft offers SEO Training in Dubai at Abu Dhabi, Sharjah, Ajman, Umm Al Quwain, Ras Al Khaimah, Fujairah, and UAE regions with unique Course Content and Backup Courses. Take a month with us, and you will become proficient in SEO concepts.
Have Doubts? Ask Our Experts
Best SEO Training in Dubai
Search Engine Optimization (also known as SEO) is a pillar of Digital Marketing. It helps businesses achieve success in online marketing. Search engines are the main reason most brands, products, and services are visible on the internet. SEO refers to a way to increase website traffic through organic methods. These methods are free and do not cost anything.
A recent survey found that Google receives 3.5 billion searches per day. Regardless of how small your business is, your business will be displayed in search results when someone searches for it on Google. The key point is that you need to appear on the first page of the Search Engine to improve your business' credibility. A business must increase its visibility and market its brand to a wider audience to rank on the first page. An experienced SEO professional can help with this using the best SEO techniques. Businesses of all sizes are looking for SEO professionals to help them grow.
Why Sanisoft Is the Training Institute In For SEO in Dubai?
What is SEO and Used for?
SEO (search engine optimization) refers to a group of techniques that increase the website's ranking in search engine listings. It could also be called Internet marketing or Web marketing. SEO's primary goal is to increase your website's ranking on search engines, making you more popular with your target audience.
You can quickly see the challenges in SEO by simply typing a search term into Google. Because most people search this way, you can enter it without quotes. SEO will return a page with search results and an estimate of how many pages are indexed for the search term. This number is your site's ranking for this particular search term.

The search engine ranking algorithm is a sophisticated filter that attempts to rank web pages to place the most relevant content in the top ten search results.
Answer 3 Simple quiz
Get 10% Discount on All Courses. Limited Offer Only. T&C Apply
Syllabus of SEO Course in Dubai
SEO - Search Engine Optimization
Basic HTML
Understanding search engine behavior
Familiar with google algorithm
Meta Title
Meta Description
Meta Keywords
Keyword Research
Internal Linking
Header & Footer Optimization
Image Optimization
H1-H6 tags Implementation
Link building
Web 2.0
Social bookmarking
Directory submission
Local business listing
Classical Ads
Guest posting
Image sharing
Article submission
Video sharing
Robots.txt file
Sitemap.xml generation
Do-follow links
No-follow links
Page speed optimization
Mobile page optimization
AMP page creation
Schema Implementation
Google My business
Google search console
Google Analytics
Google Trends
Canva
Ahref
SUMRush
Available Batch Schedule for SEO Training in Dubai
Sanisoft Information Technologies offers flexible timings for all our students. Here are the SEO classes in Dubai, The schedule for our branches. If the schedule does not match you, please let us know. We'll try to find suitable times with your flexibility.
🗓️ Can't Find Perfect Batch For You?
If you want to provide the most modern technology to your highly valued employees, we're here to assist you.
Trainer Profile of SEO Training in Dubai
Our trainers offer complete freedom to students to study the subject matter and learn from actual examples. In addition, our trainers assist candidates with their projects and prepare them for interviews and responses. Candidates are welcome to have any questions anytime.
SEO Certifications & Exams
We help the student get 15+ global certifications in SEO from Google, Semrush, Microsoft, Hubspot, Elementor.
SEO Course Certification is a great credential that shows the candidate has a deep understanding of the platform and its applications. This certification demonstrates that the student has the skills and knowledge to work in SEO. This certificate can help you prioritize your profile during an interview. This certificate also opens up many career possibilities.
SEO Certification Course in Dubai at SANISOFT teaches you the skills required to be a professional SEO. Our experienced instructors will guide you. SANISOFT offers SEO Training in Dubai. Our professionals have extensive experience in SEO. They will help you to improve your skills through the use of the most recent techniques and methods in the industry.
Key Features of SEO Course in Dubai
If you join with more than three people in your training, we will give special discount.
SEO Institute Infrastructure and Lab Setup in Dubai
Industry Level Lab (Servers, Routers, etc.)
Facility with Computers Each Students
Clean Training Rooms with Writing Pad & Chairs
Free Wifi
Free Notebook & Pens,
LED TV & Projectors
Drinking Water & Relax Room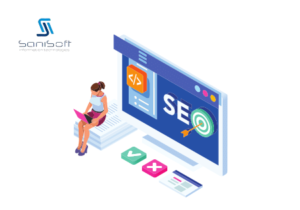 Jazmine D'souza
I had a really great experience preparing for the certifications I was pursuing. The environment is very supportive and welcoming. The training had me working on devices, implementing solutions to accomplish the required objectives. The relevant theory was thoroughly explained. The preparation provided for the exam was more than sufficient as well. Got helpful advice for the road ahead here as well. Ashfaq Motiwala
I Enrolled for CCNA 200-301 and Azure Solutions Architect Course and the trainer help me clear my concept. I happen to do all labs on Real Cisco Equipment, I did not need to spend any money on Azure Subscription. Sanisoft has Certified and professional trainers that can help you achieve your exams with flying colors . Highly recommended for those who would like to start there Career in IT. Karim Abbas
"I've never completed a course like this before and I cannot express how great it was and the overall content of the material. I would definitely recommend this to my friends. I will be looking into taking more of these classes through in the near future. Thank you so much!
[trustindex no-registration=google]
Looking for Enhance your Skill? Enroll Now for Triple Course Offer! 
Frequently Asking Questions SEO Course
Frequently Asking Questions About SEO Course
SEO or Digital marketing refers to promoting and advertising a person, business, product or service via online channels, electronic devices, and digital technologies. SEO or Digital marketing includes email, social media, search engine optimization (SEO), pay-per-click, and many other channels.
What are the types of digital marketing?
Search Engine Optimization (SEO) 
Search Engine Marketing (SEM)
Pay-per-Click (PPC)
Social Media Marketing.
Social Media Optimization
Content Marketing.
Email Marketing.
Mobile Marketing.
Marketing Analytics.
Affiliate Marketing.
How Many Months Course is SEO?
It takes between three months to one year of SEO. However, you can still learn enough to create your first program in just minutes. It can take months to master in digital world
Is SEO Hard for Beginners?
Get to know the basics of SEO.
Start your own website.
Become an SEO Expert.
Get a Google Ads Certification.
Master Facebook Ads Advertising.
Become an expert in Google Analytics.
Get a digital marketing job as a freelancer.
Get a real internship.
What skills do I need for SEO?
content writing
video & image design
Customer analysis
Business analysis
Planning
Technical understanding
Website design (optional)
Is it worth learning SEO in 2022?
In, the modern world most of the people use mobile phones or smartphones having a social media account and the field in digital marketing growing every year, so no doubt about SEO will be future.
What jobs are in demand for SEO or digital marketing?
Digital Marketing Executive
SEO Analyst
PPC Manager
Social Media Marketing Manager
Email Marketing Manager
Content Marketer
What education do you need for SEO or digital marketing?
Marketing positions typically require a degree. This will allow you to work towards becoming a digital marketing manager. These degrees include marketing, market research and sales. They also cover communication methods, technology, and consumer behavior.
Which SEO or digital marketing is best?
All kind of digital marketing is best.
Is it hard to get a job in SEO or digital marketing?
It should not be difficult to get hired in SEO or Digital Marketing. Many job openings are open than qualified candidates. The market is ready for any digital marketer who has the skills to fill that gap.
SEO Course Details Overview in Dubai
Course

SEO

Google, SEMRush, Hubspot,

We help the student get 15+ global certifications in SEO from Google, Semrush, Microsoft, Hubspot, and Elementor.

Google, Semrush, Microsoft, Hubspot, Elementor.

3000 AED to 6000 AED Per Month

SEO, SEM, SMO, SMM, Email marketer, Content creator.